Great News for Washington, DC Residents: Free Solar Electricity for Ten Years!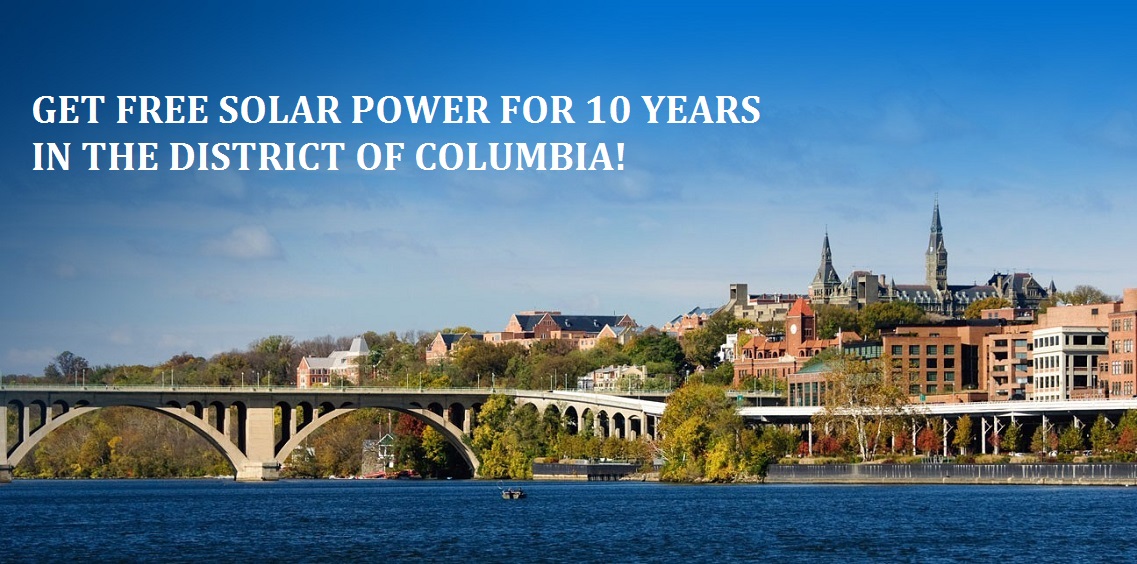 Free Solar Electricity for Washington, DC Residents for Ten Years
If you own a property in the District of Columbia, take advantage of our special "DC Solar Offer" – get 10 years of free solar power – plain and simple. There are no up-front costs and our offer is available to all types of property owners in DC. Just go to the registration link below. No credit check, no income check – everyone qualifies!
No joke! The District of Columbia has mandated that PEPCO/Exelon provide incentives to rate payers in the District and these incentives are enough for MSL Group, Inc. to offer you free solar electricity for ten years. Just sign up for a 20 year agreement where the first ten years are free and for the second ten years the rate will be fixed at today's current PEPCO/Exelon rate. There are no-up-front costs and no payments for 10 years. Go green and start saving today! Click the link below to get started.
Frequently Asked Questions About Our DC Solar Offer
Will I need to pay anything up-front?
No, you pay nothing up-front. We'll install solar on your roof at no charge and all the electricity generated by the system will be free for ten years.
Do I need to sign an agreement?
Yes, you would sign a 20-year Power Purchase Agreement, which will say that you get free solar electricity for ten years and then you pay your 2017 elecricity rate in years 11-20.
What happens after 10 years?
Starting in the 11th year, you will pay your current 2017 electricity rate, fixed until Year 20.
What if I sell my property?
If you sell the property, the agreement can be transferred to the new owner.
Will I need to maintain the solar panels after you install them?
No. We handle all maintenance during the 20-year PPA contract period.
Who qualifies for this program?
Anyone who owns a property in DC is eligible. There is no credit check. This program is designed to bring solar power to all DC residents.
What if I'm a renter?
Talk to your landlord and ask him or her to sign up.
In Washington, DC, the city council passed a law to establish a Renewable Energy Portfolio Standard (RPS). This law requires Pepco to obtain a certain percentage of its electricity from renewable energy, such as solar. Instead of building its own solar projects in the District, PEPCO has opted to purchase solar renewable energy credits (SREC's) in the open market. MSL Group develops residential, commercial and industrial projects in DC. Contact us today for details on how you can eliminate your electricity bills for a decade with our special DC Solar Offer.